About CellarTracker Barcodes
One of the most valuable features of CellarTracker is the ability to print individual barcode labels for each bottle in your cellar. Using these barcodes, you can easily and accurately record consumed bottles as well as exercise the ability to batch update location and bin information with the assistance of a barcode scanner. You can also add wine to your cellar by scanning a UPC/EAN code.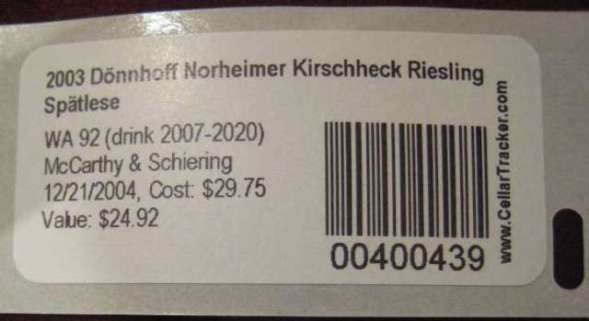 Sample CellarTracker per-bottle barcode.
Using Barcodes
There are three screens where CellarTracker barcodes can be used:
Scanning a single bottle into the Search control takes you to the screen to drink that bottle.
Select Scan Barcodes under the Quick Links menu to scan multiple bottles at once for relocation or consumption.
From the Scan Barcodes page, click bulk output mode to scan even more quickly or gather input from memory based scanners.
Additionally, barcodes can be scanned by our mobile apps by tapping on the barcode icon near the search box.
As mentioned above, you can also add wine to your cellar by scanning a UPC/EAN code on the bottle.
Types of Barcode Labels
There are three types of labels that can be created:
Unique per-bottle barcodes: Each bottle receives a label with a unique barcode on it. This is what is pictured above.
Per-wine/size barcodes: Each wine and size combination receives a single barcode. They are less specific than the per-bottle labels; for example, if you have 7 x 750ml bottles of the same wine, you will have 7 different per-bottle barcodes. However, you will have only 1 per-wine barcode (which you would print out 7 times in concept). Please note that these are NOT supported on the dual-barcode labels and in fact ONLY print on the 30336 label template.
Location and bin barcodes: You can also generate barcodes for your storage locations and bins. This allows you to scan bottles, and then easily relocate these bottles by scanning a location or bin barcode. For more information, review the Location and Bin Barcodes help topic.