Tasting Notes and Ratings
Tasting notes are one of the core components of CellarTracker; in fact, we currently have over 7.5 million user-generated reviews in our database! They offer a way for users to share their thoughts on how a particular wine is tasting at any given point in time.
Tasting notes are public and are seen by all users. These should not contain copyrighted material, scores from critics, or promotional material from retailers. In a nutshell, a tasting note should reflect your impressions on how a wine tastes. It is important to keep in mind that tens of thousands of people see these tasting notes every day. Any remarks that are defamatory, offensive, or strongly political may be edited or deleted. Play nicely!
With regard to copyrights, please note the following which appears on the personal tasting note entry screen:
Note:
Material you enter here is
publicly visible
to all viewers of the site and should
not
include copyrighted material. The use of tasting notes is governed by Section 6 (Contributions) of the
Terms and Conditions
. Please use
Pro Reviews
to privately store copyrighted material and
Articles
to store winemaker notes.
CellarTracker also supports a variety of other public and private note types; for more information, see the Public and Private Note Types help topic.
Wine Rating Scale
CellarTracker uses a 50-100 point scale for rating wines.
| | | |
| --- | --- | --- |
| Score | Grade | Meaning |
| 98-100 | A+ | Extraordinary |
| 94-97 | A | Outstanding |
| 90-93 | A- | Excellent |
| 86-89 | B+ | Very Good |
| 80-85 | B | Good |
| 70-79 | C | Below/Average |
| 50-69 | D | Avoid |
To help users understand the meaning of the values, a Wine Rating Assistant is available to equate it to the US academic grading system that it is based on.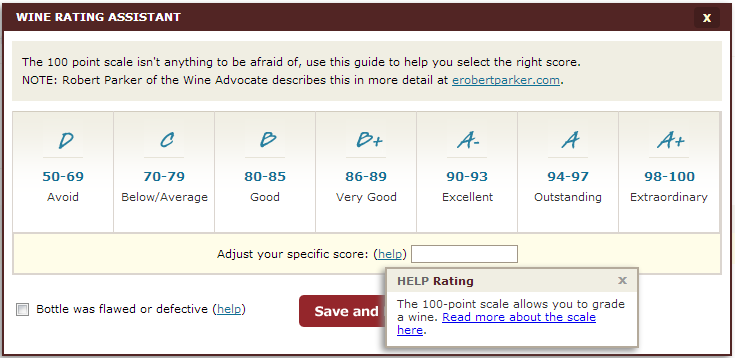 Robert Parker's Wine Advocate (read more)
For reference, here is the scale used by Robert Parker's Wine Advocate.
| | |
| --- | --- |
| Score | Meaning |
| 96-100 | An extraordinary wine of profound and complex character displaying all the attributes expected of a classic wine of its variety. Wines of this caliber are worth a special effort to find, purchase, and consume. |
| 90-95 | An outstanding wine of exceptional complexity and character. In short, these are terrific wines. |
| 80-89 | A barely above average to very good wine displaying various degrees of finesse and flavor as well as character with no noticeable flaws. |
| 70-79 | An average wine with little distinction except that it is a soundly made. In essence, a straightforward, innocuous wine. |
| 60-69 | A below average wine containing noticeable deficiencies, such as excessive acidity and/or tannin, an absence of flavor, or possibly dirty aromas or flavors. |
| 50-59 | A wine deemed to be unacceptable. |
For reference, here is the scale used by Wine Spectator.
| | |
| --- | --- |
| Score | Meaning |
| 95-100 | Classic: a great wine |
| 90-94 | Outstanding: a wine of superior character and style |
| 85-89 | Very good: a wine with special qualities |
| 80-84 | Good: a solid, well-made wine |
| 75-79 | Mediocre: a drinkable wine that may have minor flaws |
| 50-74 | Not recommended |
When reading a tasting note I see references to "1,000 views" for that tasting note. What is a "view" and how are these counted?
A "view" is counted every time the tasting note is "rendered" onto a web page by the server, although a user does not increment the view count for their own note. Notes are rendered in many places such as the general list of notes, when you drill down to a wine, on your homepage, etc. The counts are just supposed to let people have some idea of whether other people are seeing the notes, and this is modeled after similar features in many bulletin boards. Obviously the fact that a note is rendered does not mean that it has actually been read.
How do I group tasting notes together into flights using the TASTING STORIES feature?
A tasting story (formerly called a tasting event) is a cool feature that lets you take a series of notes and organize them into one cohesive story. This lets other users see the context in which a wine was tasted/consumed, and you don't have to necessarily burden each individual note with details about the other wines, paired foods etc. In our desktop website, first write all of your tasting notes, ideally in the order tasted. Then click MY TASTING NOTES at the upper right and then click ADD A TASTING STORY. Pick the same date, and then you can create flights, link the notes, add per flight commentary, and can add a introduction and conclusion to the overall story.