Sharing to Facebook
If you use Facebook and like to share the occasional wine or tasting note with friends or family, CellarTracker can place a nicely formatted and linked label image on your Facebook timeline to let your friends know what you are buying, drinking or tasting. Posting to Facebook can be easily suppressed with simple checkboxes during the aforementioned actions on CellarTracker.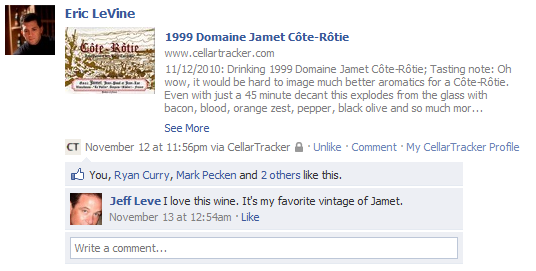 Linking Accounts
To enable posting to Facebook, you must first link your accounts together.
1

Go to the CellarTracker My Subscriptions page, and scroll to the bottom to find Facebook. Click Sign Up.


2

A dialog will open up asking you to log in to Facebook (if you are not already logged in), and then to allow CellarTracker to post to your timeline. Press Okay to enable the integration.

3

If everything worked, CellarTracker will now refresh and indicate that your accounts are successfully linked.
Un-linking Accounts
There are two ways that you can un-link your Facebook account from your CellarTracker account.
On the My Subscriptions page, click the Remove link below Facebook. This will remove your cached credentials from CellarTracker.
From within Facebook, go to Settings, then Apps, and select CellarTracker in the list. You can edit app permissions, or remove it completely.
Permissions
CellarTracker requires the minimum set of permissions necessary to complete the end goal: posting your updates on your behalf. They are:
Basic Profile Data: All Facebook applications are required to have access to your profile. In the case of this application the only data actually read from your profile is the link to your actual Facebook profile.
Posting Permissions: This is by design, but since the whole point of the CellarTracker application is to post data to your profile, well it of course needs posting permissions.
If any of these permissions are controversial for you, then my advice is not to use the integration.
Throttling
One important limitation of Facebook is that it does limit/throttle the total number of posts a user can make from CellarTracker to their profile in a 24-hour period. The good news is that as more users exercise the integration the more that Facebook raises this limit. If the application ever stops working, just wait 24 hours and then try again.
Where is my Status Update?
Since Facebook moved to their newer "timeline" user interface, people often ask "where the heck are my CellarTracker updates?" Sadly that is question you need to direct to Facebook. However to troubleshoot, click into your profile and then click on your ACTIVITY LOG to see for sure if CellarTracker posted to your account successfully.
Invalid Credentials Errors
If you don't use the Facebook integration for a long period of time, your linked credentials may expire. To fix this, please follow the prompts in the error message you receive to re-authorize your account.